全加州2014年2月房屋销售情况
《美国洋房网》自DataQuick的报道,全加州今年2月房屋销售总量是25,680栋,比上个月的25832下降 0.6%,比上一年同月的28719栋下降10.6%。二月份的中间房价是$355000, 比上个月的353000上升0.6%, 比去年同月的 $289000上升22.8%。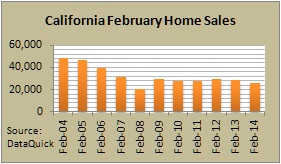 详细情况请见DataQuick的报道。
California February Home Sales
March 13, 2014
An estimated 25,680 new and resale houses and condos sold statewide last month. That was down 0.6 percent from 25,832 in January, and down 10.6 percent from 28,719 sales in February 2013, according to San Diego-based DataQuick.
February sales have varied from a low of 20,513 in 2008 to a high of 48,409 in 2004. Last month's sales were 18.9 percent below the average of 31,660 sales for all the months of February since 1988, when DataQuick's statistics begin. California sales haven't been above average for any particular month in more than seven years.
The median price paid for a home in California last month rose to $355,000, up 0.6 percent from $353,000 in January and up 22.8 percent from $289,000 in February 2013. February marks the 24th consecutive month in which the state's median sale price has risen year-over-year, and the 15th straight month with a gain exceeding 20 percent.
In March/April/May 2007 the state's median peaked at $484,000. The post-peak trough was $221,000 in April 2009.
Of the existing homes sold last month, 8.2 percent were properties that had been foreclosed on during the past year. That was up from 7.7 percent in January and down from 17.9 percent a year earlier. Foreclosure resales peaked at 58.8 percent in February 2009.
Short sales – transactions where the sale price fell short of what was owed on the property – made up an estimated 9.6 percent of the homes that resold last month. That was down from an estimated 10.9 percent the month before and 22.4 percent a year earlier.
The typical monthly mortgage payment that California buyers committed themselves to paying last month was $1,405, down from $1,423 the month before and up from $1,053 a year earlier. Adjusted for inflation, last month's payment was 39.3 percent below the typical payment in spring 1989, the peak of the prior real estate cycle. It was 50.8 percent below the current cycle's peak in June 2006. It was 52.2 percent above the January 2012 bottom of the current cycle.
DataQuick monitors real estate activity nationwide and provides information to consumers, educational institutions, public agencies, lending institutions, title companies and industry analysts.
Indicators of market distress continue to decline. Foreclosure activity remains well below year-ago and peak levels reached in the last five years. Financing with multiple mortgages is low, while down payment sizes are stable, DataQuick reported.
Source: DataQuick; DQNews.com
Copyright DataQuick. All rights reserved.